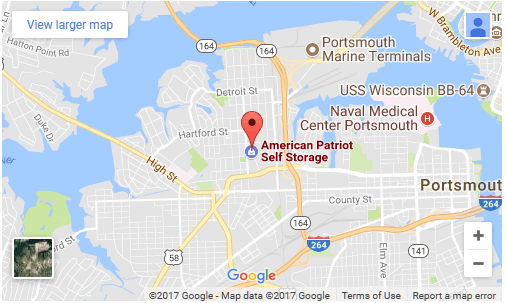 If you need a self storage unit  to put your belongings during a move, a place to put your business' overflow of inventory, or a medical or legal office in need of space for files/records, or just want a place to keep those things you simply don't have space for, come rent a unit at American Patriot Self Storage. We strive to provide each customer with the highest standards of quality and convenience at an affordable price.
American Patriot Self Storage is conveniently located just by the Broad Street Post Office in Portsmouth, easily accessible from the downtown and midtown areas of Portsmouth, the Midtown tunnel and I64 and 164 freeways, Norfolk, and Chesapeake.
American Patriot Self Storage: Secure Storage Units
Our site is fenced and lit, with professional management for most of access hours. We offer digital video surveillance and the premises is monitored by a local security company after hours to give you peace of mind. We provide you with your own individual code for use with our controlled gate access system, for secure entry 6am- 8pm, 7 days a week, for most lockers.
Convenient
Gate Access is 6am- 8pm, 7 days a week. All major credit cards are accepted, as well as personal check and cash, so making a payment is easy. You can use convenient auto credit /debit charge or checking account billing to pay your bill monthly.
Online Account Access
Our E-commerce software gives you the convenience of accessing your account online, so you can pay your storage unit's rent from the comfort of your own home. New customers can reserve a unit online, and existing tenants can view account history and payment history through our secure connection with only a few mouse clicks.
Value
We strive to offer the best prices in the area at our storage facility, and we GUARANTEE your move-in rate for 12 months. With hundreds of units in a variety of sizes, you'll be sure to find something to suit your storage needs. To be sure you get the best deal on your unit, check out our size guide and pricing considerations.